Check-in
Attention! Terminal D is now operating at Boryspil Airport.
Check-in for international flights is carried out:
on the 3rd level of terminal D (reception desk 1-60)
Check-in for domestic flights is carried out on the 2nd level of the Terminal D (62-76 check-in counters).


Check-in duration is set by the airline. Usually check-in starts 2 hours and closes 40 minutes prior to the scheduled departure.
Early check-in is highly recommended. Your booking is subject to cancellation if you fail to arrive on time and complete the check-in process by the check-in deadline. If you do not have the required travel documents, a carrier can refuse carriage and cancel your booking not to delay the flight.
To check-in a passenger needs to present a ticket and an ID. Citizens of Ukraine should present a passport of the citizen of Ukraine, an international passport of the citizen of Ukraine, a Child`s Travel Document, a Ukrainian diplomatic passport, a Ukrainian service passport, a Seafarer`s identity card or a crew member ID card. Foreign nationals and apatrides staying in Ukraine should present a passport, a temporary or a permanent residence permit.
Leaving for the airport make sure you don`t forget your ticket and ID as well as Child`s Travel Document(s) in case you are traveling with a child/children.
As soon as the check-in is completed a passenger receives a boarding pass with his/her name, carrier, flight number, date, boarding time, gate and seat (if available) indicated.
Web check-in
Save time queuing at the airport and check in from home with your carrier`s web check-in service. Visit your carrier`s website, fill in your name and e-ticket/booking number, print out your boarding pass and present it to the boarding pass control at the airport. The service`s availability should be checked with the carrier.
CUSS Check-in Kiosks
Located on the 3rd level of Terminal D, Common Use Self-Service Check-in Kiosks enable passengers to personally check in for their flights and choose their preferred seats. Save your precious time and avoid queuing at check-in counters.
Via CUSS Kiosks passengers can quickly and easily check in for flights of the following carriers: KLM, Air France, Lufthansa, Austrian Airlines, British Airways, Turkish Airlines and other.
CUSS Check-in Kiosks are equipped with a touch screen, a passport reader, 2D bar code reader, a credit card reader and a boarding pass printer. A passenger can use one of these four options to check in for his/her flight.
The basic options are displayed on the screen and enable passengers to receive a boarding pass with a credit card or a frequent flyer card (e.g. Miles & More, etc.). To check in a passenger should put a credit card into a reader and take a number of simple steps using user prompts.
In case a passenger wishes to check in with a passport, he should put it into the scanner and then enter the flight number, destination or booking code.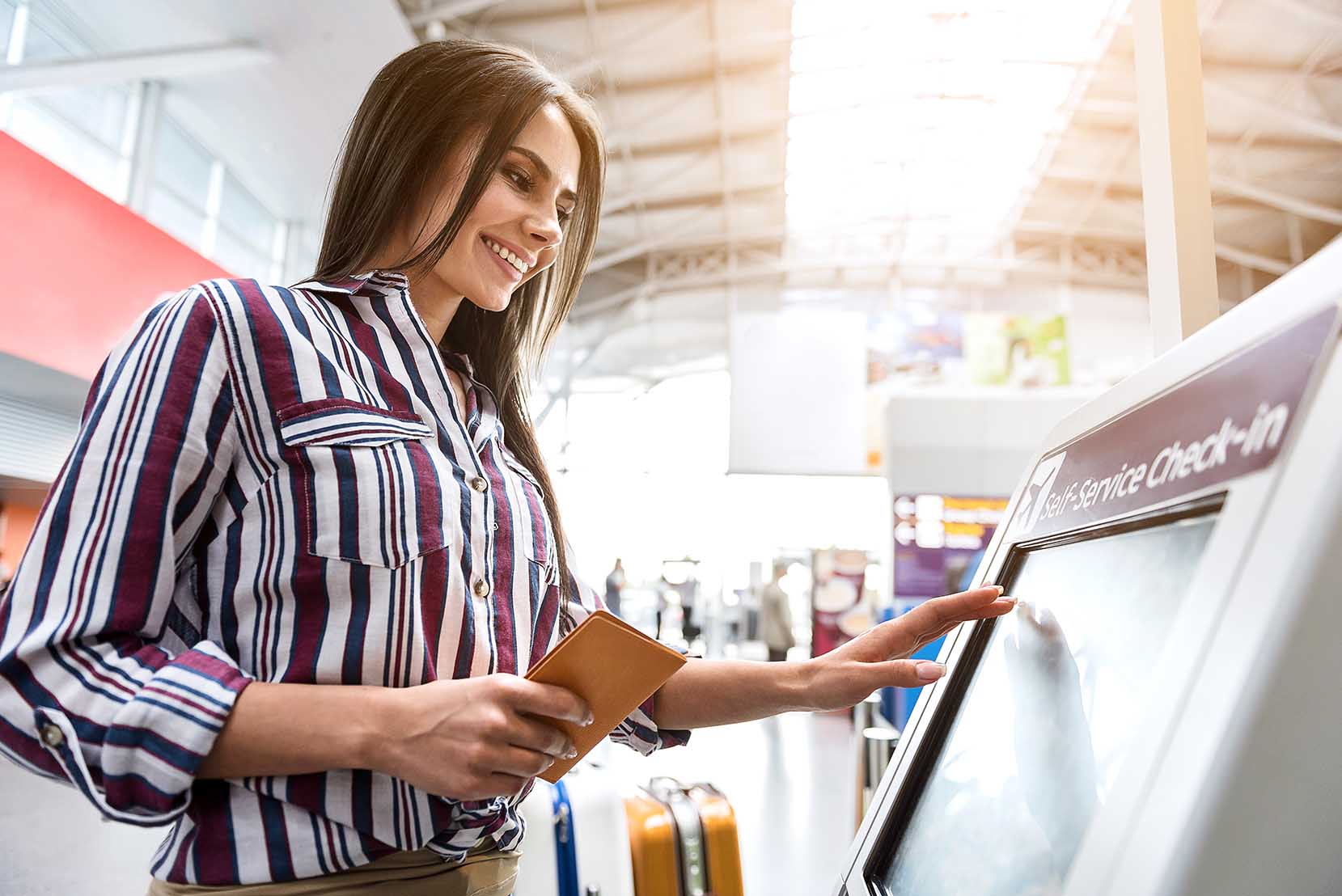 A passenger can check in simply by entering his/her name and booking code (e-ticket number) as indicated in the printed e-ticket copy. In case a passenger has already checked in and wishes to make some changes (for example, to choose another seat), he should put his boarding pass or mobile phone display into the scanner with the bar code up and proceed.
Passengers who checked in with CUSS Kiosks should use special Baggage Drop Off counters to check in their baggage.
Mobile check-in
If you have checked in using mobile check-in procedure and received a mobile boarding pass, you can go through all the formalities (security control, customs and passport control) without printing your boarding pass but simply presenting it on your mobile phone screen at all control points. If your portable is dead, ask the check-in counter staff to hand out a printed copy of your boarding pass.