About cargo terminal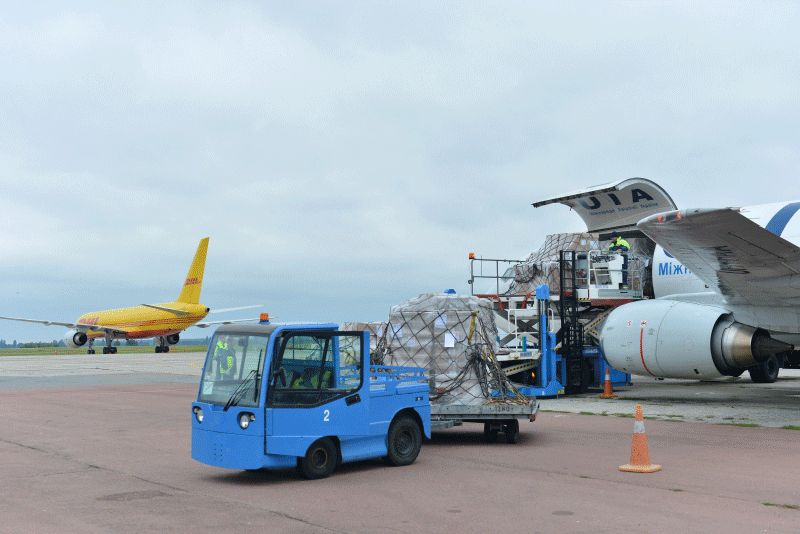 Cargo terminal characteristics:
territory 14,580 m²;
9 storage areas;
Temporary storage total area (up to 90 day-long storage according to the Customs Code) 5,072 m²:

a) heated storage (temperature over +5C) – 2769 m², capacity 1772 pallet/cells or 531.6 tons;
b) non-heated storage 2303 m², capacity 914 pallet/cells or 274.2 tons.

capacity 2686 pallet/cells, 805.8 tons;
up-packaging area 1980 m² (protection against precipitations is available);
packaging area 980 m² (protection against precipitations is available);
cold storage with temperature conditions +2…+8C (4 units). Export shipments 190 cb. m., maximum doorways: H2m x W1.4m and Import shipments 170 cb. m., maximum doorways: H2m x W1.5m;separate cold storage for ca
rgos containing human remains – 30 cb. m.;
refrigerating chamber with temperature -18C (50 m³, doorway: 2m x 0.85m);
secialized storage for different classes of hazardous cargo (19 m², 25 m², 31 m², 12 m²);
specialized storage for radioactive hazardous cargo (7th class), 18 m²;
specialized storage for valuables, 18 m²;
special area for live animals short-term accommodation (fenced in, heated, ventilated);
CCTV system;
fire alarm system at storages;
automated cargo inventory system;
specialized equipment for mechanized cargo handling (container loaders, forklifts with loading capacity of 1.5 – 7 tons, container dollies, trucks, lifting platforms, conveyor belts, hand loaders, tractors);
highly qualified, educated and certified personnel engaged in handling hazardous cargo and live animals.
Other facilities located on the Cargo terminal territory:
Kyiv Customs authorities (Boryspil Airport Customs Station);
Sanitary and Quarantine station of Sanitary and Epidemiological Service;
Ecological control station;
Plants quarantine station;
Veterinary station of State Veterinary Control Department;
Representative offices (GAs) of the carriers and shipping agencies.
Cargo terminal operating hours:
for carriers 24/7;
for clients (cargo receipt/delivery) daily from 08:15 till 19:45 (lunch 13:00 – 14:00).