About cargo terminal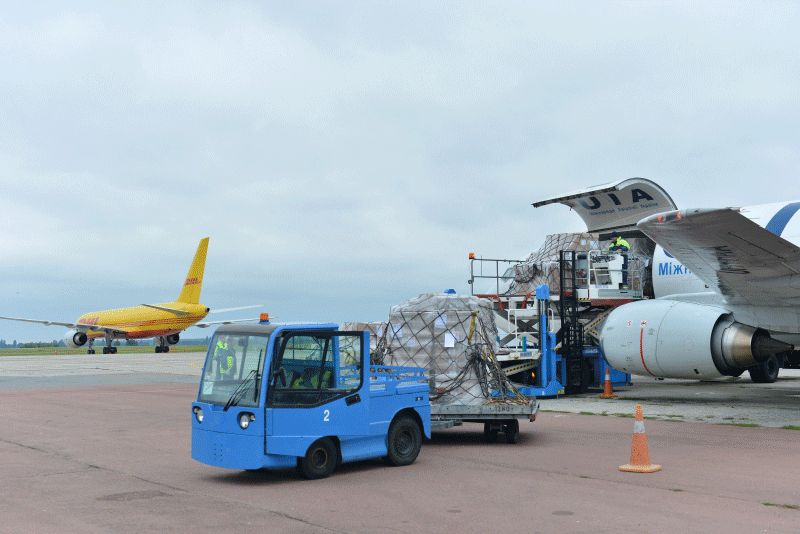 Cargo terminal characteristics:
territory 14,580 m²;
9 storage areas;
Temporary storage total area (up to 90 day-long storage according to the Customs Code) 5,072 m²:

a) heated storage (temperature over +5C) – 2769 m², capacity 1772 pallet/cells or 531.6 tons;
b) non-heated storage 2303 m², capacity 914 pallet/cells or 274.2 tons.

capacity 2686 pallet/cells, 805.8 tons;
up-packaging area 1980 m² (protection against precipitations is available);
packaging area 980 m² (protection against precipitations is available);
cold storage with temperature conditions +2… + 8 C (4 units).

Export shipments 190 cb. m., maximum doorways: H 2 m x W 1.4 m
and Import shipments 170 cb. m., maximum doorways: H2m x W 1.5 m;

two coldstores with a common partition for the "Import" mode storage of cargoes in:

the compartment with a + 2… + 8 °C 144m³ temperature mode (3,2х3m doorway);

the compartment with a + 12… + 25 °С 144м³ temperature mode (3,2х3м doorway).

separate cold storage for cargos containing human remains – 30 cb. m.;
refrigerating chamber with temperature – 18C (50 m³, doorway: 2 m x 0.85 m);
secialized storage for different classes of hazardous cargo (19 m², 25 m², 31 m², 12 m²);
specialized storage for radioactive hazardous cargo (7th class), 18 m²;
specialized storage for valuables, 18 m²;
special area for live animals short-term accommodation (fenced in, heated, ventilated);
CCTV system;
fire alarm system at storages;
automated cargo inventory system;
specialized equipment for mechanized cargo handling (container loaders, forklifts with loading capacity of 1.5 – 7 tons, container dollies, trucks, lifting platforms, conveyor belts, hand loaders, tractors);
highly qualified, educated and certified personnel engaged in handling hazardous cargo and live animals.
Other facilities located on the Cargo terminal territory:
Kyiv Customs authorities (Boryspil Airport Customs Station);
Sanitary and Quarantine station of Sanitary and Epidemiological Service;
Ecological control station;
Plants quarantine station;
Veterinary station of State Veterinary Control Department;
Representative offices (GAs) of the carriers and shipping agencies.
Cargo terminal operating hours
For the period of martial law in Ukraine and closure of airspace of Ukraine, the Cargo Terminal Temporary Storage Warehouses (hereinafter – TSW) are operating only for reclaim and inspection of cargoes delivered to TSW before 24.02.2022 (inclusive).
Reclaim (inspection) is available to our customers from Monday till Friday 11:00–16:00 by Kyiv time, subject to mandatory prior appointment to visit the Cargo Terminal.