Aviation security
Aviation security control
In order to prevent weapons, explosive materials and devices or other dangerous goods, substances, etc., that can be used to carry out an act of unlawful interference, in airports of Ukraine on both domestic and international flights aviation security screening and control are conducted.
Crew members, passengers including transit and transfer, their hand luggage, baggage, cargo, courier and post dispatches, flight and airport deliveries, in-flight provisions, catering, persons and vehicles allowed to access the airport restricted area, which is secured, are subject to aviation security control.
A passenger/person who refuses to pass aviation security control or submit his/her hand luggage, baggage, personal belongings to be screened, is not allowed to be carried on board and in the security restricted area.
Passengers/persons, who have not been granted access to the security restricted area, as the result of aviation security control, are handed over to law enforcement officers and it is reported to the carrier, whose flight a passenger was not allowed on.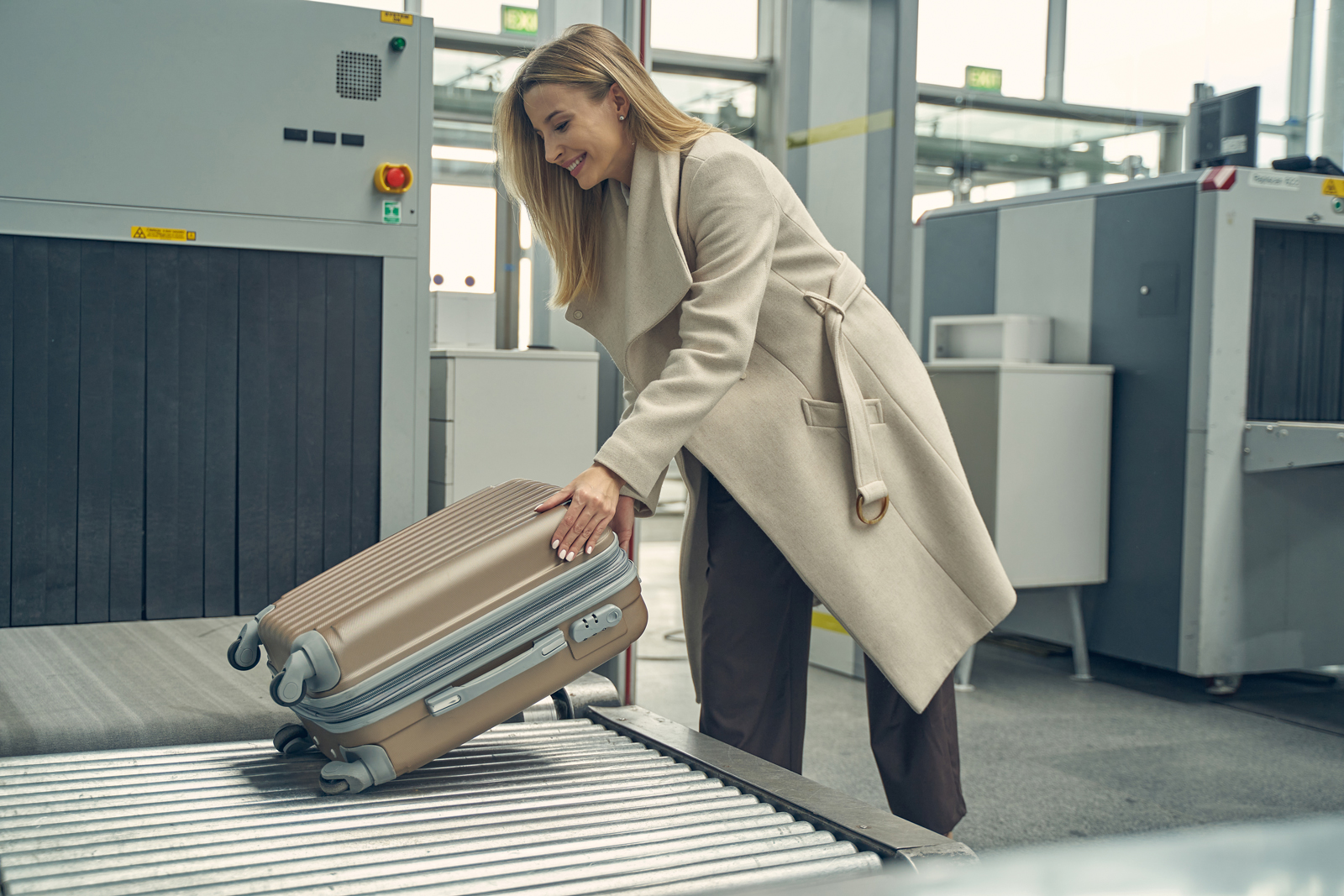 Recommendations for passengers passing aviation security control
present your boarding pass and identification document to be checked by Security Control personnel;
pay your attention on appropriate signs and video records located at aviation security check points and nearby with information about the procedure of passing security control;
take a special container and put your outwear (coat, jacket, etc.), content of your pockets and trouser belt in it;
take electronic devices out of your hand luggage: portable computers/tablets, photo and video-equipment, mobile phones, other devices, running on accumulators/batteries and put them into a special container separately from hand luggage;
if you have liquids, aerosols, gels, put them into special containers separately from hand luggage. The regulations are specified in section "Transporting of liquids, aerosols and gels";
put your hand luggage and all your belongings, placed in special containers, on the moving part of a conveyer and wait to be invited by aviation security personnel to go through metal detector.
Specifics of aviation security control for passengers requiring special attention are specified in sections "Passengers with children" and "Passengers with disabilities, reduced mobility and elderly passengers".
While passing the security control please keep aviation security personnel instructions – all this will help you to pass the security control faster and in conformity with the effective national and international requirements to aviation security.
List of dangerous goods and liquids prohibited to air transportation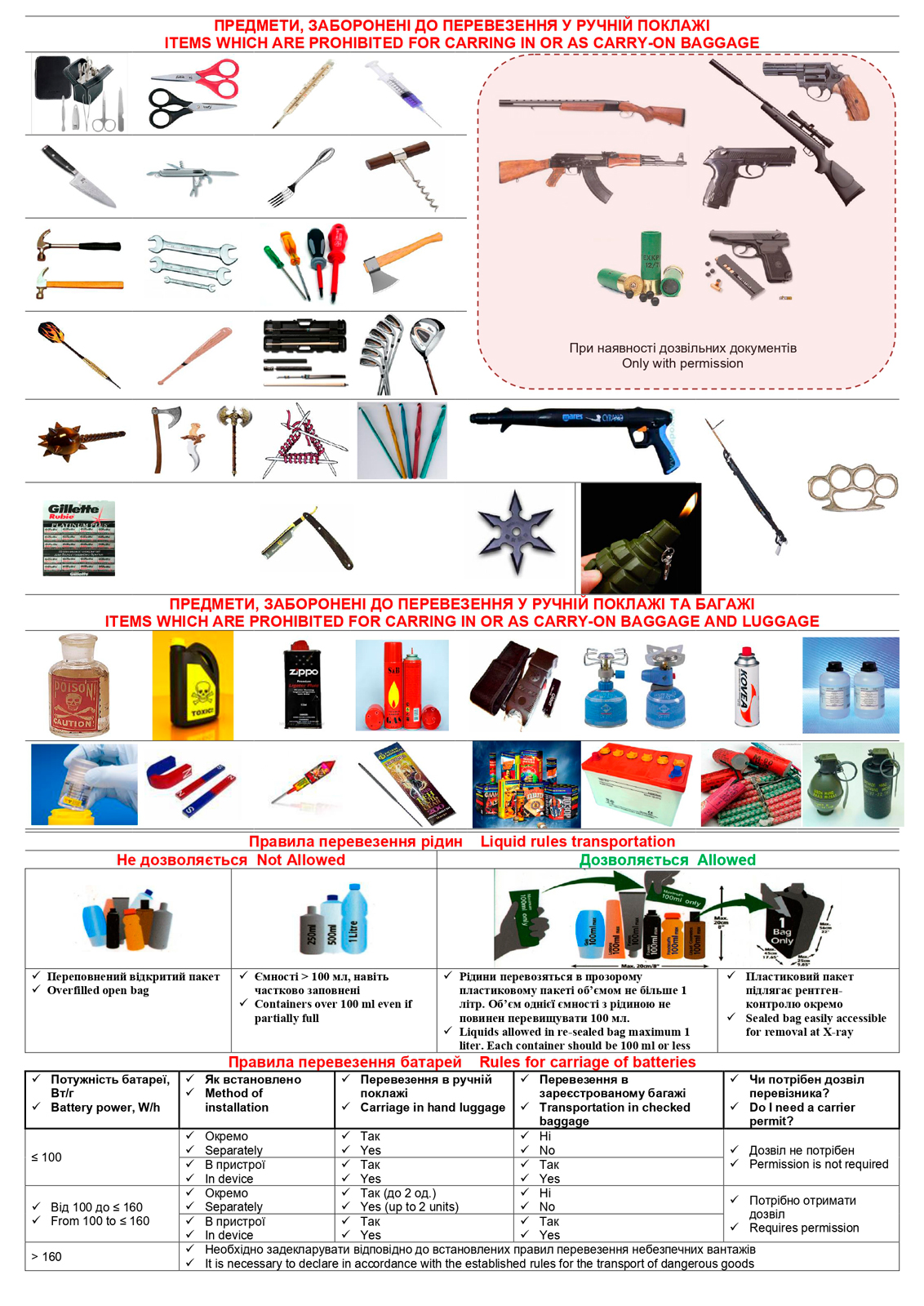 Pursuant to requirements of Aviation Rules of Ukraine "Instruction on organization and implementation of security control in Ukrainian airports" established by the Order of the State Aviation Administration of Ukraine №322 dated 15.03.2019 for security reasons passengers are not allowed to take such items in hand luggage and personal belongings in the restricted area and on board of the aircraft:
guns, firearms and other devices, which fire bullets;
devices, which can be used to cause serious damage by firing a bullet, including:
all types of firearms, including guns, revolvers, rifles and shotguns;
toy pistols, models and imitations of small arms that can be perceived as true weapons;
components of small arms, except telescopic sights;
compressed air rifles and carbon dioxide cans, including pistols, shotguns, rifles and bullets;
signal rocket launchers and starting pistols;
bows, crow bows and arrows;
harpoon rifles and rifles for underwater hunting;
slingshots and slings;
shock devices, namely:
instruments for shock damage (pistols, sticks, etc.);
devices of shocking animals and devices for killing animals;
chemical substances, gases and sprays, causing break down and paralyze (Mace gas, pepper spray, acid sprays, animal frightening sprays and tear gas, etc.);
pointy or sharp pointed objects, namely:
objects, intended for cutting (axes, cutters, bow ties, etc.);
ice axes and icepicks;
shaving blades;
cardboard cutting knives;
knives with a blade length longer than 6 cm;
scissors with blades longer than 6 cm (measured from the center of the hinge);
martial arts tools with pointed ends or sharp edges;
swords and sabers;
working tools, namely:
adjusting tools;
drills and drill bits, including cordless portable power drills;
tools with blades or rods over 6 cm in length that can be used as a weapon (screwdrivers, chisels, etc.);
saws, including cordless portable electric saws;
soldering lamps;
"guns" for fastening and driving nails;
blunt instruments, namely:
baseball bats and softball bits for playing softball;
hockey sticks and sticks, namely different types of police sticks (solid, flexible and lantern sticks, etc.);
tools for martial arts;
explosive substances and igniters and devices, namely:
ammunition;
detonator-capsules;
detonators and lights;
copies and imitations of explosive devices;
mines, grenades and other explosive military devices;
pyrotechnics, including pyrotechnic articles for fireworks;
smoke bombs or cartridges;
dynamite, gunpowder and plastic explosive substances, etc.;
Passengers are not allowed to transport such items in checked baggage:
Explosives and incendiary substances and devices, namely:
ammunition;
detonating caps;
detonators and fuses;
mines, grenades and other military explosive devices;
pyrotechnics, including pyrotechnic articles for fireworks;
smoke bombs or cartridges;
dynamite, gunpowder and plastic explosive substances, etc.;
Transportation of liquids, aerosols and gels
Liquids, aerosols and gels means water, other beverages, soups, syrups, jams, sauces, pastes, other food in form of sauces or containing a large amount of a liquid, creams, lotions, cosmetic products, oils, perfumes, sprays, gels including hair and shower gels, shaving foam, other types of foam, deodorants, pastes including toothpaste, mixtures, liquids with hard substances, mascara, lipstick and any other products of similar consistency.
Requirements for transporting liquids, aerosols, gels of personal use in hand luggage
all liquids, aerosols, gels are to be transported in bottles no more than 100 ml each;
all liquids, aerosols, gels in bottles more than 100 ml are not allowed for transporting (even if a bottle is partially filled), while carriage of empty containers with the capacity that exceeds 100 ml is allowed;
bottles with liquids, aerosols, gels are to be placed in a closed clear plastic package that does not exceed 1 liter. The size of package must be 20,5 × 20,5 cm or 25 × 15 cm, or of equivalent size;
each passenger is allowed to carry on only one package with liquids, aerosols, gels, which is to be submitted for security control separately;
exemption from the specified measures is allowed for medicines, baby food including milk and products intended for meeting special diet needs or with other medicinal purposes.
Liquids, aerosols, gels purchased in retail shops of the airport before passing security control and which capacity is over 100 ml are prohibited for transporting.
Transporting of liquids in hand luggage by transfer passengers
For transfer passengers the exemption is made for liquids, aerosols and gels, purchased in Duty Free shops at the departure point and carried by transfer passengers. Such liquids, aerosols and gels are accepted for further transporting, if a passenger has a receipt/ a check as a confirmation of the purchase and if he has not left the airport restricted area.
Transportation of liquids in hand luggage by passengers with special needs and passengers with children
Exemption from the rules on the amount of transporting liquids, aerosols, gels is provided by the aviation security service while passing the security control if the liquid, aerosol or gel is intended for use during travel and is necessary for medical reasons or for dietary needs, including baby food. Special dietary needs include liquids or food, essential for a passenger's health, baby food provided the child is also travelling, or special food required by passengers, resistant to lactose or gluten containing food. Other food for children includes milk or juice, sterilized water and spoon food, gels, pastes.
Liquids, aerosols, gels required for medical purposes, volume of which exceeds 100 ml, according to doctor's prescription or those purchased without a prescription are allowed for transporting, if it is necessary to carry them in the aircraft's cabin and their volume does not exceed the quantity required for a journey.
Upon the Airport Aviation Security personnel request, a passenger shall provide a confirmation of the necessity of transporting the available liquids. Family name indicated on the sticker of medicine that has been purchased by the prescription is verified with the family name indicated on the boarding pass. If medicines were purchased without the prescription, the decision is to be taken based on quantity of medicine required for the flight duration considering possible delays or deviations from the route. If medicines were purchased by a prescription, a passenger shall provide a medical reference from the doctor (if no patient's family name is indicated on the sticker of the medicine).
In case of necessity to do medical treatment of a passenger during a flight, the availability in his/her hand luggage of syringes required to make injections and their transporting shall be agreed with the carrier's representative upon the appropriate confirmation (medical reference) from authorized person.
In case of transporting liquids, aerosols, gels, essential during the trip, the duration of the whole journey shall be taken into account, not only the duration of the flight.
If you have doubts whether to take or not that or other belongings, items, accessories on board of the aircraft, please clarify the information by phones:
063 980 64 38 / 044 281 75 46
Weapon transportation
Pursuant to "The instruction on weapon and ammunition air carriage" requirements approved by the State Aviation Administration of Ukraine on March 18, 2005, №199:
On a passenger flights it is allowed to carry on:
military rifle-bore and customized weapons; emasculated, training, old-fashioned small arms, sporting and hunting weapons, combined mode and smooth-fore firearms, as well as ammunition; air guns, domestically produced devices designed to release bullets and equipped with rubber or other nonlethal weapons, Melee weapons (crossbows, hunting knives, Japanese swords, sabers, broadswords, yatagans, Finnish knives, daggers, bayonets, and bayonet-knives, practice and fake weapons, gas spray guns and revolvers owned by enterprises, institutions, organizations, business unions and citizens.
Transporting weapons and ammunition to it by legal entities is carried out on the basis of permits for the purchase, import and transporting of weapons and ammunition, issued by law enforcement agencies with a written request of the head of the enterprise, institution, organization.
A legal entity provides a submission of weapon in the package separately from ammunition.
Duly packed weapon and ammunition are not subject to visual check. Such baggage shall be submitted for aviation security control by means of special technical devices. Packed weapon and ammunition to it are carried in an aircraft cabin in the place not accessible to any person on board (isolated baggage and technical compartment). Museum, theatrical stage and hunting weapons are carried upon the similar procedure.
All weapon types of individuals are carried in a discharged, dissembled (if possible) condition as checked baggage, in a special portable metal container equipped with a secure lock in the luggage compartment of the aircraft, in an inaccessible to passengers and crew place during the flight.
At the check-in counter passengers travelling within Ukraine and carrying firearms, air guns, melee weapons and ammunition are required to present permissions to store and bear for each piece to be carried, issued by appropriate authority of internal affairs, or copies of weapon acquisition permits with a marketing note.
We recommend to inform the carrier about your intention to carry weapons on board the aircraft well in advance (if possible, do it when booking your ticket). In case you intend to carry weapon abroad, it is necessary to get acquainted with the legislation of the country or your destination about the rules of weapon handling and air transporting.
Rules of transporting dangerous goods in the aircraft cabin
Dangerous goods are products and substances that may pose a threat to health, safety, property or the environment and stipulated in the list of dangerous goods, determined by the Aviation Regulations of Ukraine.
Requirements to dangerous goods transported by passengers or crew members
Dangerous goods shall not be transported by passengers or crew members as checked baggage or hand baggage except for the cases specified in IATA "Regulations for carriage of dangerous goods" dated 1 January, 2022, issue №63.
Provisions, specified in IATA "Regulations for carriage of dangerous goods" dated 1 January, 2022, issue №63, might be limited by differences in the practice of states or operators.
Passengers shall clarify applicable rules of the airline.
Batteries transportation rules

If you have doubts whether to take or not that or other belongings, items, accessories aboard of the aircraft, please clarify the information by phones: 063 980 64 38 / 044 281 75 46