About Boryspil airport
Boryspil International Airport is the busiest Ukraine`s airport providing around 57% of the country`s passenger air traffic and handling over 8 million passengers per year.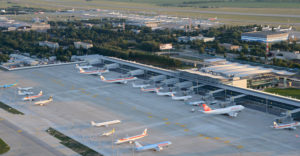 Boryspil airport is well-located at the intersection of numerous routes connecting Asia with Europe and America. Over 40 national and international carriers operate scheduled passenger and cargo flights to over 80 destinations worldwide.
Technologically, Boryspil is unique for Ukraine, the CIS countries and Eastern Europe. The airport has three passenger terminals and two parallel runways. One of them – 4000 m long and 60 m wide – allows handling all types of aircraft 24/7 with no regard to operational weather limits including low visibility. Moreover, Boryspil is also the only Ukraine`s airport that transcontinental flights are operated from. The airport is a member of the International Air Transport Association (IATA), the International Civil Aviation Organization (ICAO) and the Airports Council International (ACI Europe).
Boryspil airport constantly works on developing infrastructure, engaging carriers, and upgrading service. We make every effort to please and impress our guests since Boryspil airport is Ukraine`s main gateway.
Put into operation in2012, Terminal D is Ukraine`s largest terminal complex allowing Boryspil airport to move to a fundamentally new level of air transportation in terms of quality and quantity.
Boryspil International Airport is the main base airport for Ukraine International Airlines.
General information on Terminal D
Area: 107000 m2
Capacity: Terminal D handles up to 10 million passengers per year, with passenger capacity of 3000 arrivals and 3000 departures per hour.
Check-in area: Terminal D is equipped with 60 international and 16 domestic check-in counters, 6 Self-Service Check-in Kiosks, 18 international and 6 domestic aviation security control points, and 28 passport control desks. For passengers' convenience the terminal is also equipped with lifts, elevators and moving walkways.
Terminal D has 11 fixed air bridges equipped with automated aircraft visual docking system (for embarkation/disembarkation) enabling to simultaneously handle six Boeing 747 aircraft and 5 Boeing 737 aircraft. Concourse gallery is 870 meters long.
The most demanding travelers seeking maximum comfort and best service are offered to take advantage of the Terminal D VIP Lounge.
Background
In early 1950's the Soviet Union demonstrated high rates in terms of civil aviation development. Conversion to the epoch of reactive civil aviation commenced by Soviet Tu-104 aircraft on June 17, 1955, required new approaches to the construction of airports and runways.
To comply with all safety norms and overcome the restrictions applied to airports located within the cities, a new project was developed. It involved using the military airbase located near the Boryspil city by both military and civil aviation. After the permit to base civil aircraft at the military airbase was issued, the airport pre-opening works had been completed at a fast clip.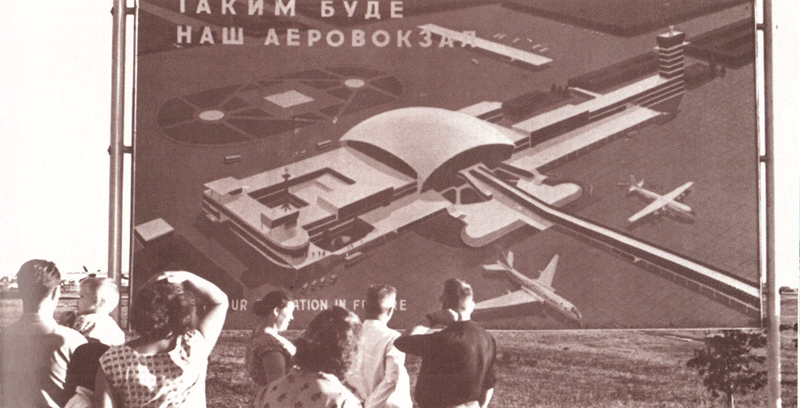 June 30, 1959, civil aviation authorities issued an order to establish Boryspil airport. July 7 Boryspil serviced its first ever scheduled flight. During the first year of operations afield (6 tents and manufactured buildings) Boryspil managed to become Ukraine`s 3rd largest airport in terms of passenger traffic yielding to Simferopol and Zhulyany airports only. International flights were transferred to Boryspil in 1960.
The project of the airport complex was developed by KievProject Institute in 1961. In 1965 the complex was finally put into operation. According to the standards of those days, the airport`s throughput capacity amounted to 1400 and 200 domestic and international passengers respectively. Yielding to Moscow Domodedovo International airport only, Boryspil airport became the USSR`s second largest airport, as well as one of the largest European airports.
Passenger traffic increased annually. That`s why the second airport`s runway was built and put into operation in 1971. Radio-electrical units, an aircraft maintenance base, an emergency-lifeguard station, a surveillance radar complex and many other facilities were constructed and put into operation as well.
In 1982 the construction of automated air traffic control (ATC) center called Strela (namely Arrow) began. Strela facilitated the job of both flight operation officers and crews and was put into operation within the territory of Ukraine.
Through to 1990 Boryspil demonstrated the best operating performance of all Ukrainian airports. Crisis that was inflicted by the Soviet Union demise had adverse effect on the airport`s performance. However, the airport didn't stop operations but started searching for investors. The Cabinet of Ministers of Ukraine issued a decree of historic significance to Boryspil airport. According to the decree, the airport was meant to undergo reconstruction, with 60% private and 40% governmental investment. This literally brought Boryspil back to life and gave a new momentum to the airport`s further development. March 11, 1993, Boryspil airport was granted the status of an International State airport.
April 1, 1993, the second legal foundation of Boryspil airport took place. According to the decree of the Minister of Transport and Infrastructure of Ukraine, Boryspil International airport State Enterprise, Ukrainian Airlines regional direction and Kievcentraero were established as part of Boryspil Aviation Enterprise.
In 1995 the new Terminal C designed to handle VIP-passengers was put into operation. In 1998 Dr. Assad Cotaight, ICAO President, formally confirmed the Boryspil airport training center to be accredited as an ICAO aviation security training center (one of 21 suchlike centers located worldwide).
To mark the 10th Independence Day the runway #1 was reconstructed. The project was financed by European Bank of Reconstruction and Development. By the way, it was the first ever EBRD credit granted to Ukraine. Currently, the runway #1 allows handling all types of aircraft and complies with ICAO requirements of III A category.
September 21, 2010, the new Terminal F was put into operation with throughput capacity of up to 900 departures and 900 arrivals per hour. May 28, 2012, the largest Ukraine`s passenger Terminal D (with throughput capacity of up to 3000 departures and 3000 arrivals per hour) was opened.
On EURO 2012 Final Match Day Kiev Boryspil International airport set a new record of 630 flights serviced and 39 317 passengers handled (the previous record of 423 flights serviced was set in 2008). Today, Boryspil International Airport handles up to 8000000 passengers per year and services over 50% of all flights to and from Ukraine.
We are confident that Boryspil International airport will continue maintaining its leading positions as the leading Ukraine`s aviation infrastructure facility and the promising rapidly developing Eastern European hub.