Boryspil Airport: Terminal F opening large-scale starlight event
On 24 March, the festive family-sporting event KBP Runway Run took place at Boryspil International Airport on the occasion of Terminal F opening and the beginning of the summer season. The event, organized in partnership with Visa, media-supported by 5 Kanal, KISS FM and Focus magazine was visited by around 4000 guests and promoted by live broadcasts and online.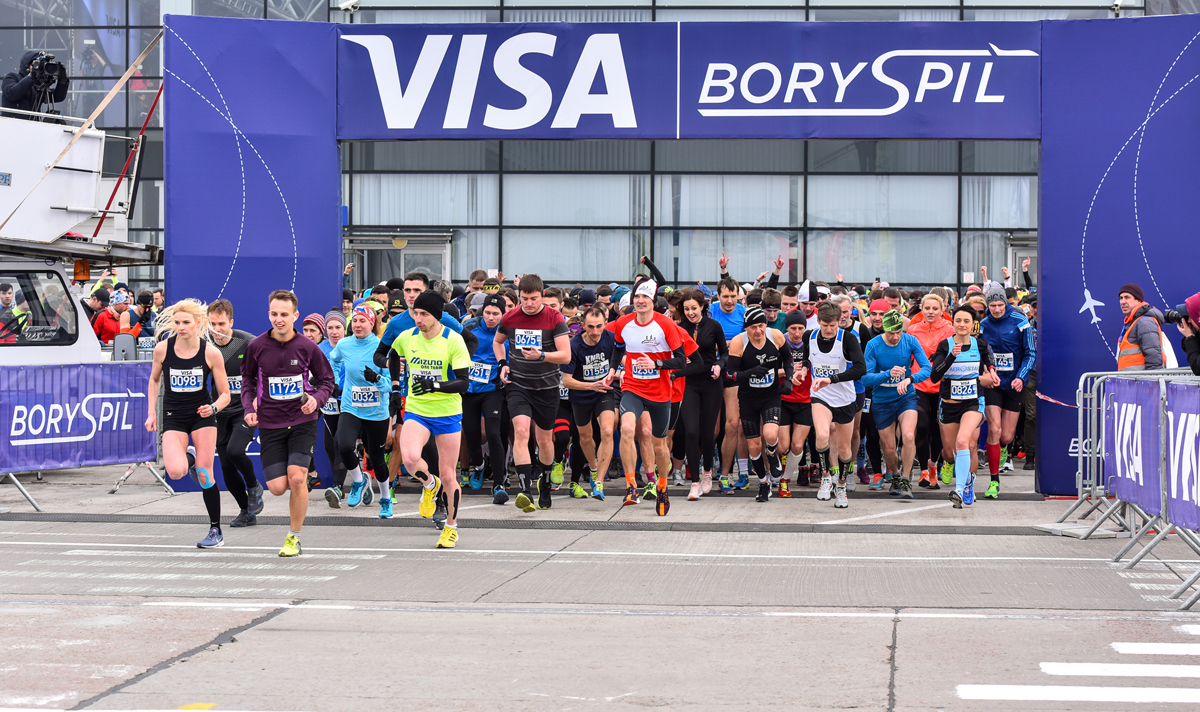 About 2700 athletes with various levels of mastership took part in the races on the Airport Runway-2 within four distances: 3km., 5km., 10km. and 5km. of Nordic walking. Apart from the individual participants, more than 63 corporate teams representing large state enterprises and private companies hit the start.
Every race start throughout the day was accompanied with the grand musical-entertainment program, hosted by tele diva Snizhana Yehorova and radiobroadcaster & actor Serhiy Komarovskyi. Public was ignited by YARRA band, Dj Mr. Sunny, Kyiv municipal academy of circus and variety arts dancing troop headed by Hulnara Savenko and the municipality rector Vladyslav Krnienko, singer Artur Bosso and the day headliners – TNMK (Tanok Na Maidani Kongo) band.
At the dawn of the race day the awarding ceremony was opened by the Pavlo Riabikin, Boryspil International Airport State Enterprise CEO, Yevhenii Dykhne, First Deputy Director General, Heorhiy Zubko, Commercial Director and Krisina Dorosh – the representative of VISA, Acting Vice President and the Head of Payment Solutions Department of Ukraine in the CIS and South-Eastern Europe region.
Pavlo Riabikin, the Head of Boryspil International Airport:
"Dear friends, I truly appreciate that you have found some time and visited our event. Today in such a festive format we return Terminal F its main function – in a week, starting from 31 March it will begin to handle passengers. So, in a while we will be really glad to welcome you all here once more, yet as the passengers of Boryspil Airport.
This project is a wonderful opportunity to demonstrate that Boryspil Airport is a unique base for social and cultural activities. We would like the flights at Boryspil to be associated with the only pleasant surprises and festive mood."
Yevhenii Dykhne, the First Deputy Director General:
"With the joint efforts of all Boryspil Airport departments we honorably faced this challenge. It was a great pleasure to convince once more that thanks to the well-organized teamwork, Airport is developing and expanding its capabilities. It is proved by the fact air carriers are already choosing Terminal F and its technological level is lies in the line as the one of Terminal D.
The beginning of 2019 summer season at Boryspil Airport seems to be special and memorable from the point of view of today's fest. It is of the greatest pleasure for me to see such a positive feedback and interest in the Terminal F launch from many passengers. I am thankful to everyone who has come here today for our opening ceremony."
Heorhiy Zubko, the Commercial Director:
"What an amazing day! KBP Runway Run today is a unique opportunity for everyone here to participate in the launch the terminal F. The fastest will get worthy rewards and the most endurable – unforgettable emotions. For the Airport runners team it is also a new step on the way to reach the aimed goals in the Boryspil Airport strategic development. Sport gives inspiration, wings and vitality. I wish all my colleagues good results on their distances!."
Kristina Dorosh, Acting Vice President and the Head of Payment Solutions Department of Ukraine in the CIS and South-Eastern Europe region:
"VISA company appreciates being a partner of Boryspil international Airport within the framework of infrastructural development, creation of more comfortable conditions for aviation passengers from all over the world. Kyiv is the city that enchants with its beauty and hospitality – the city of monumental touristic potential. We all witness the dynamic development of Boryspil Airport as the European hub.
We are extremely happy that for our company this development is also connected with such privileges and advantages for those who travel with VISA cards. Yet we also have pride for not only supporting airport business projects. Today, VISA runners team also have participated in the run, that's great. We take pride that so many people – strong, good-looking, intelligent, joyful and sporty people represent our brand today. We are grateful to our partners for such a wonderful opportunity to enhance our corporate and partnership spirit."
Every KBP Runway Run participant received an original medal and the 1st, 2nd and 3rd place winners got exclusive presents provided by Boryspil Airport partners. During the official winners awarding ceremony, Boryspil International Airport management additionally emphasized that the event of such format underlines the status of the Airport as the cultural hub in the best possible way and motivates for the further development of its creative potential.
EVENT PHOTOREPORT IS AVAIABLE AT: https://drive.google.com/drive/u/1/folders/1h4WqgrwQB7ocghzn8kFVQDXI4Y7pAUmM?fbclid=IwAR2H66BmhtsIPHSuhcgnJPH9MdaCjz6vAzMq3hjeqDdeDF13_hMQq7bm5Qk