Information for passengers of relocated flights from Kyiv Sikorsky airport
From 2nd till 12th September this year, flights of 10 air carriers that were originally operating at Kyiv Igor Sikorsky International Airport (Zhulyany), will be handled at Boryspil International Airport State Enterprise. Flights will be operated at Boryspil Airport Terminals D and F. The increase of flights at Boryspil is scheduled and will not affect the regularity of other flights.
Passengers of Alitalia, Pegasus Airlines, Motor Sich will depart from Terminal D. Belavia and LOT flights (from Zhulyany) will also be handled at Terminal D.
Terminal F will handle Wizz Air, Ernest Airlines, Buta Airways, Jonika Airlines, Vueling Airlines flights.
Tips for passengers
Following the link, you will find the Boryspil Airport online schedule, displaying information about the flights scheduled for next 48 hours.
In Boryspil Airport, there are two terminals in operation, D and F. Please, clarify your departure terminal in advance.
Terminal D and F are distant from each other. This distance requires some time, so there is a free bus connection between the terminals running every 30 minutes. Interterminal bus (Shuttle Bus) schedule is available at: https://kbp.aero/en/transport/sbus/
Please be advised, that as of today, at Terminal F there is no Duty Free shop, this issue is not attributable to the Airport.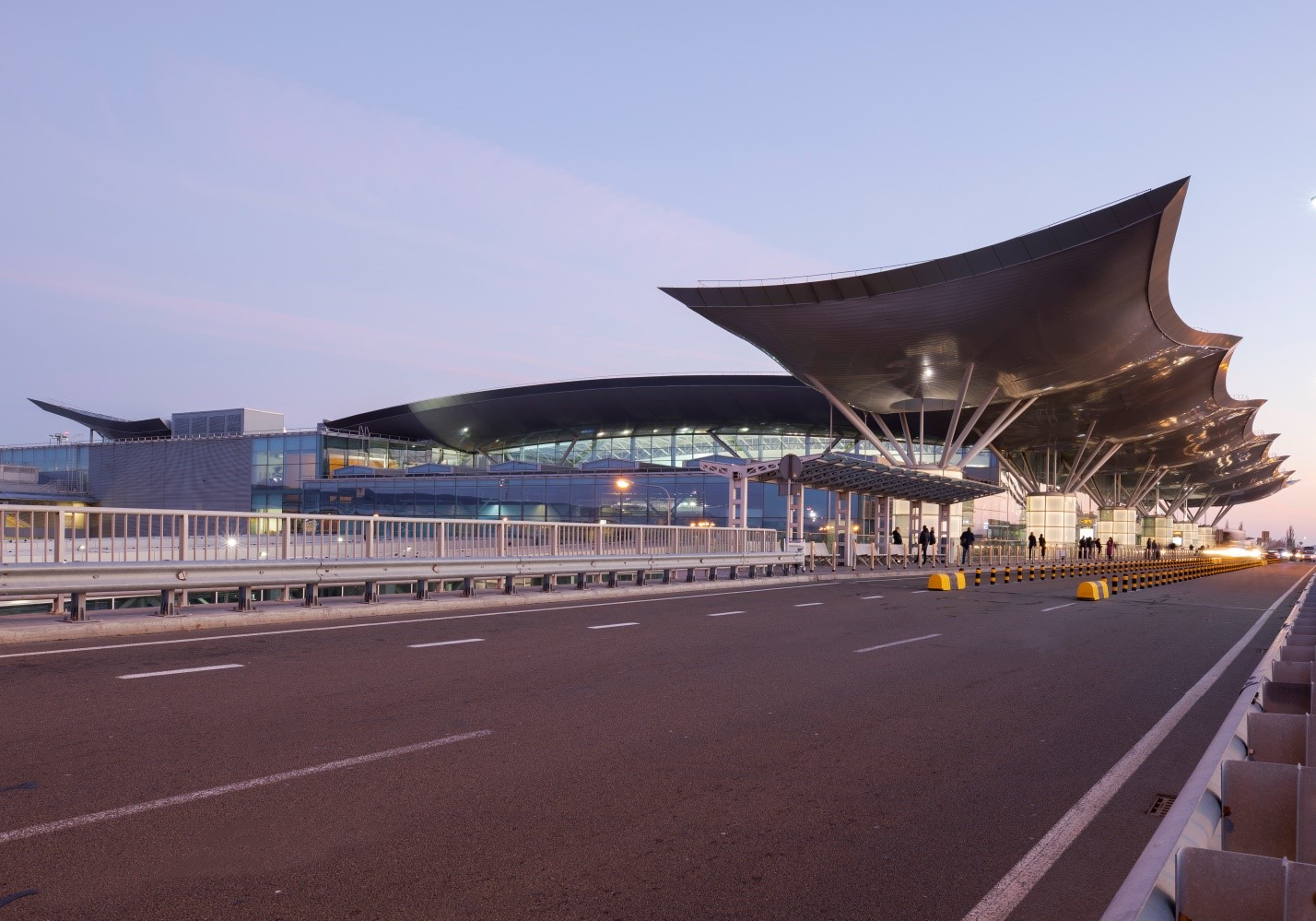 Terminal D (3rd level), Departure area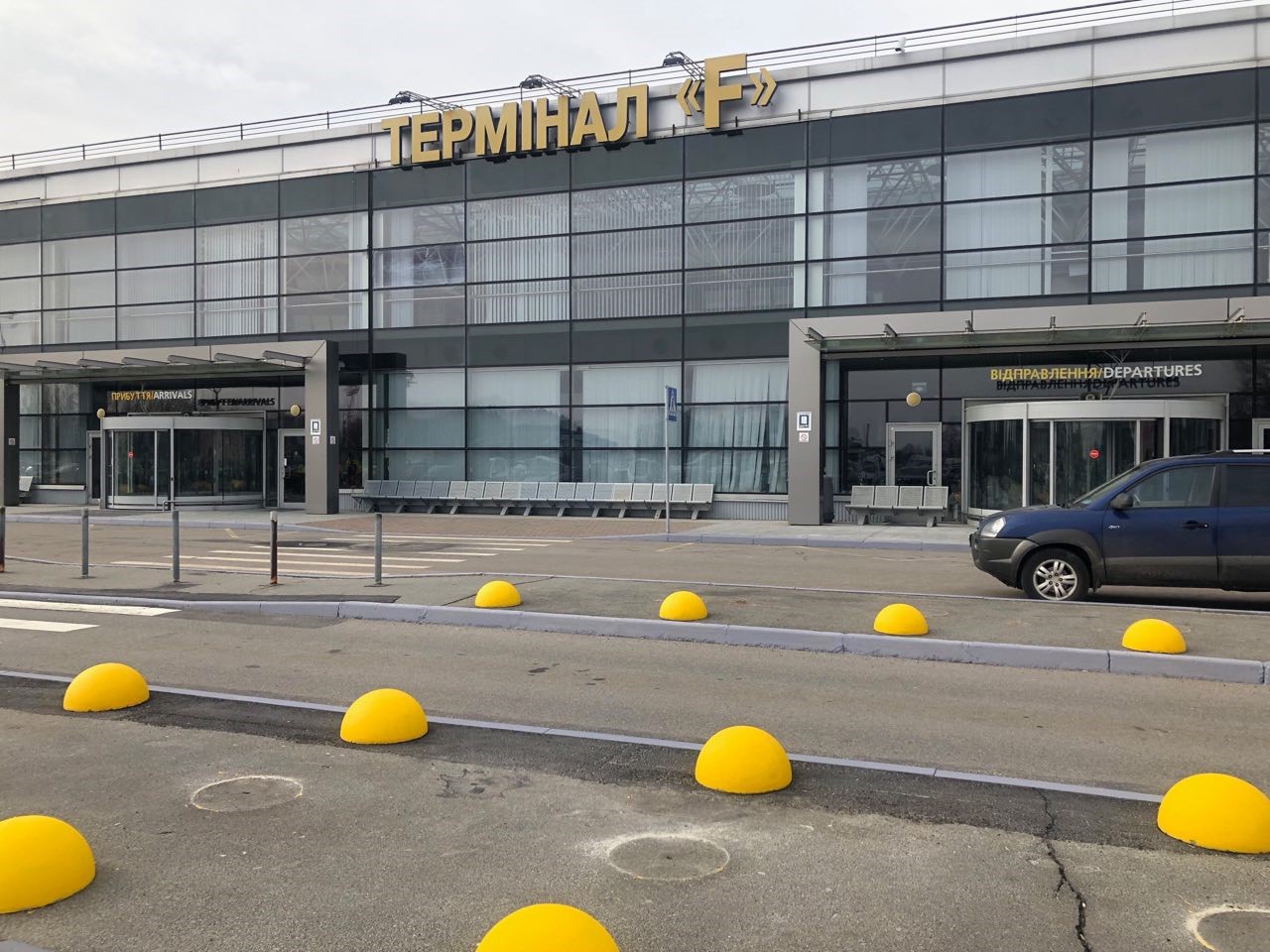 Terminal F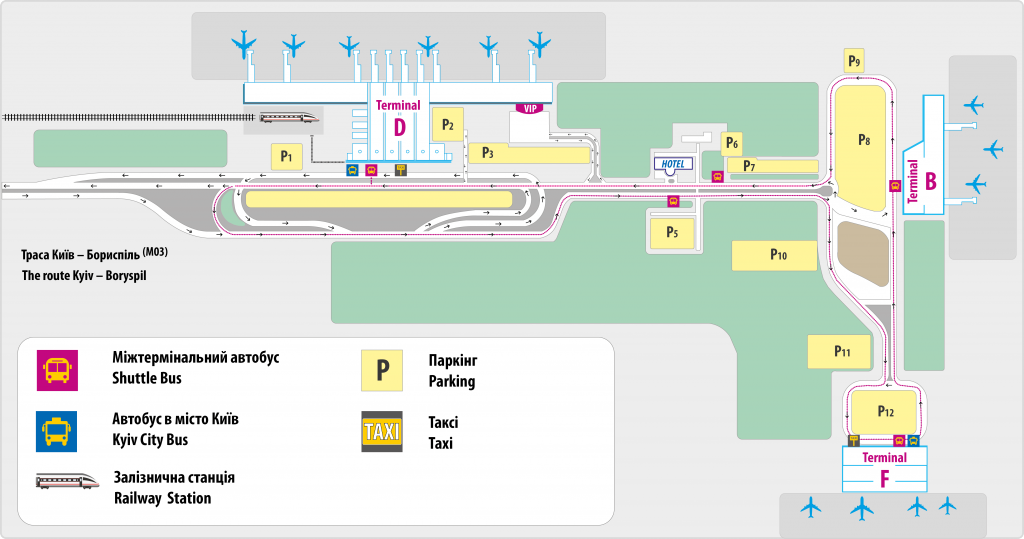 Airport schematic image
Transfer
Sky Bus busses or Kyiv Boryspil Express provide the connection from Kyiv city to the airport.
Sky Bus transfer info: https://skybus.kiev.ua/en/
Railway connection "Kyiv-Pasazhyrskyi" – "Boryspil-Aeroport" schedule: https://kbp.aero/en/kyev-boryspol-ekspress/. Station is located near Terminal D, on the 1st level.
Parking places
If you come to Boryspil International Airport by your own vehicle, you can use one of the parking areas located near the airport terminals. Price for parking is
UAH 15 to UAH 40 per hour.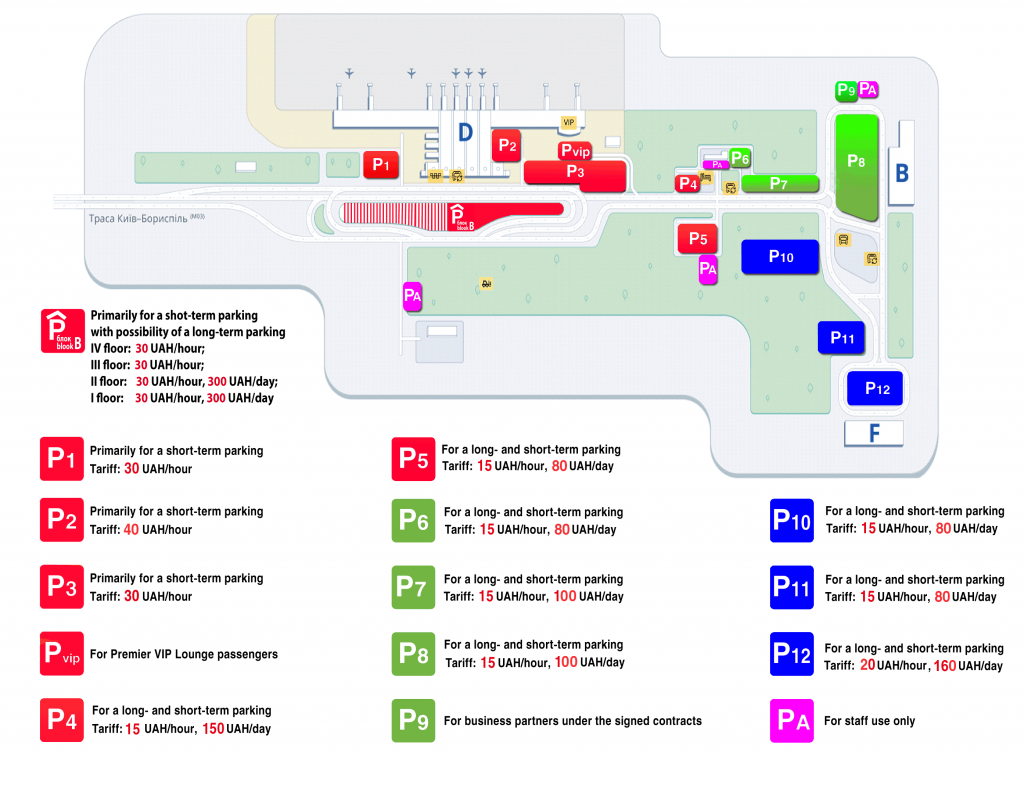 Parking areas location
 Infromation
Boryspil International Airport Information Desk provides help to the passengers in three languages (Ukrainian, English and Russian) 24/7.
Boryspil Airport call center +38 (044) 364-45-05
Terminal D Information Desk +38 (044) 281-79-09
Terminal F Information Desk +38 (044) -281-73-99