The solemn cancellation of the Glory to the Defense and Security Forces of Ukraine! Offensive Guard postage block took place at Boryspil International Airport
09 May 2023
On May 9, 2023, on Europe day celebration, the postage block Glory to the Defense and Security Forces of Ukraine! Offensive Guard, which is a continuation of the `Glory to the Armed Forces of Ukraine! ` edition, presented by Ukrposhta in 2022, took place at Boryspil International Airport. This block contains postage stamps depicting warriors of the National Guard of Ukraine, the State Border Guard Service of Ukraine, and the National Police of Ukraine.
Oleksiy Dubrevskyy, the General Director of Boryspil airport, Olesya Kopchuk the director of the Kyiv branch of Ukrposhta, Volodymyr Borysenko, the Mayor of Boryspil, Oleg Trofimenko, the head of the separate border crossing point `Kyiv`, Oleksiy Fesenko, the head of the police department as well as representatives of the National Guard and airport employees took part in this solemn event.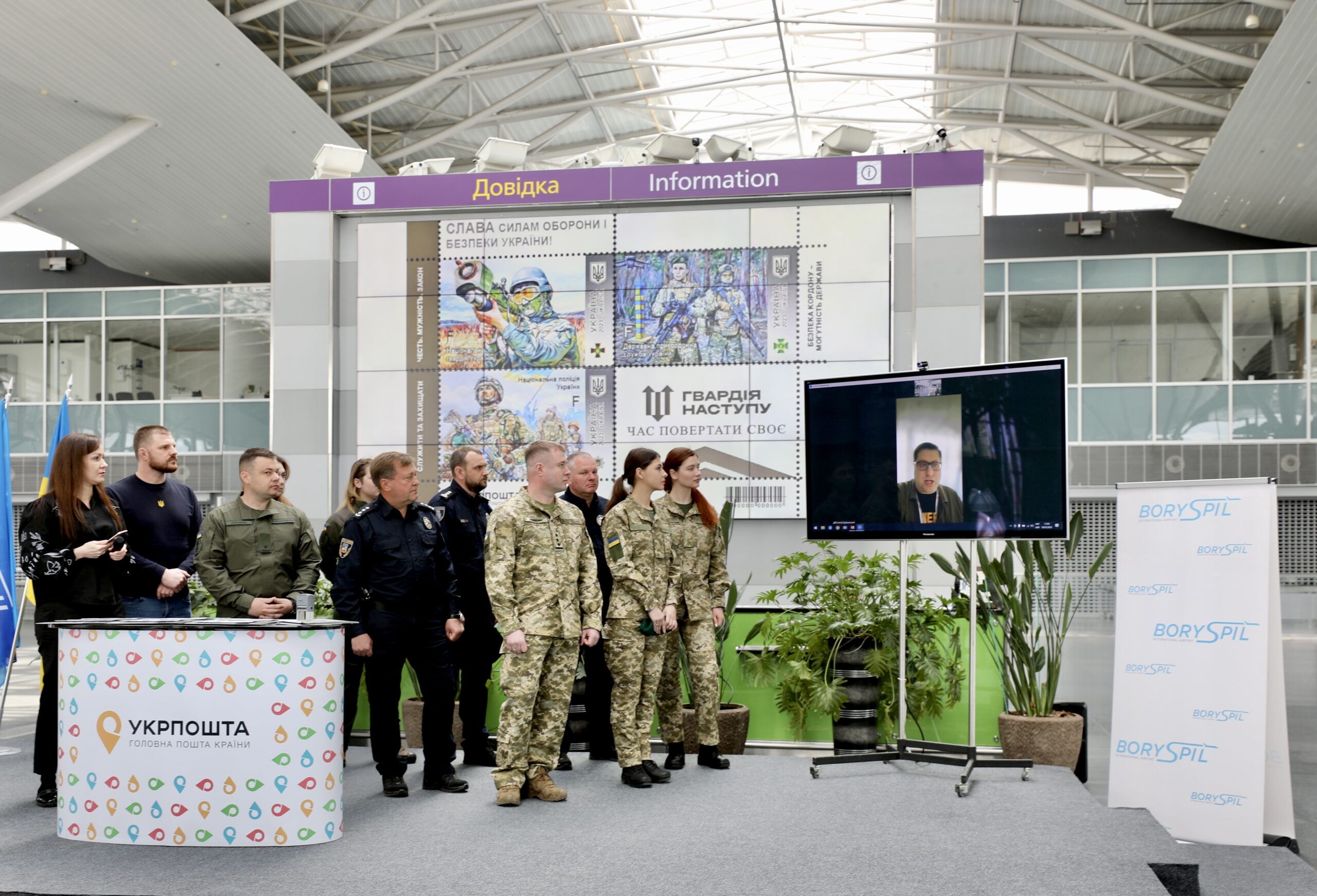 Oleksiy Dubrevskyy, the Director General of Boryspil International Airport, addressed the participants of the ceremony with a welcome speech. He emphasized the significance of the event for the airport and thanked our defenders: "It is symbolic that today Boryspil International Airport became the venue for the meeting and event for the solemn cancellation of a postage stamp dedicated to the Offensive Guard – the Border Guard, the National Police and the National Guard. In fact, the airports of Ukraine became the first strongholds, the first border, which took a devastating burnt from the enemy. I want to pay tribute to every defender of Ukraine who mounts guard over our borders. The contribution of each of you to the national security of the country is priceless. I am grateful for and wish you all a clear and peaceful sky!"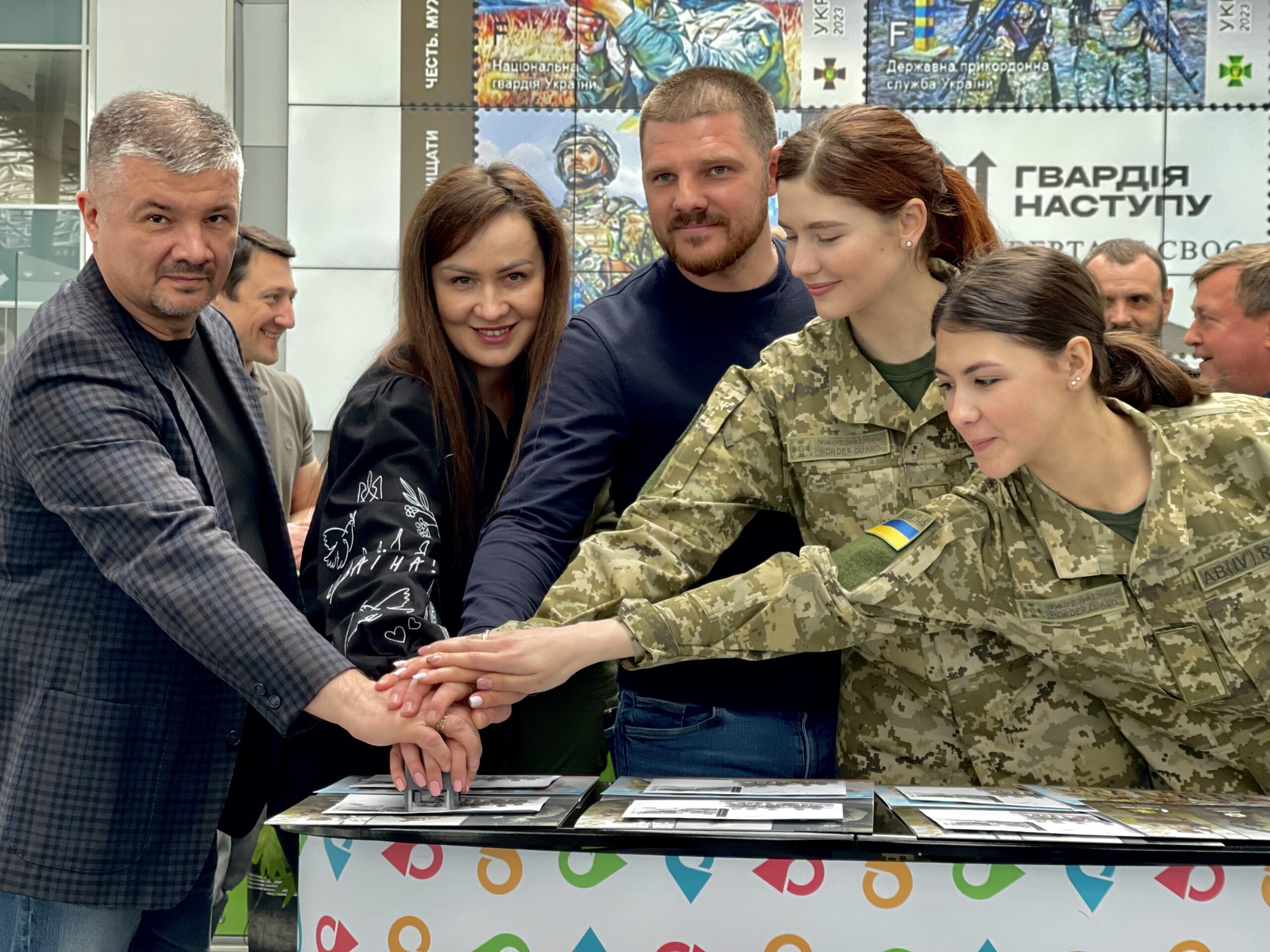 Volodymyr Borysenko, the Mayor of Boryspil, thanked the defenders and employees of the airport: "This is the main and essential air gate of our country, where the bustle of passengers, children's laughter will return very soon after the victory, but we will always know that thanks to you, thanks to the Armed Forces, we live in a free, integral and indivisible country. We will win the long-awaited convincing victory. Glory to Ukraine! Everything will be Ukraine! Everything will be Boryspil Airport!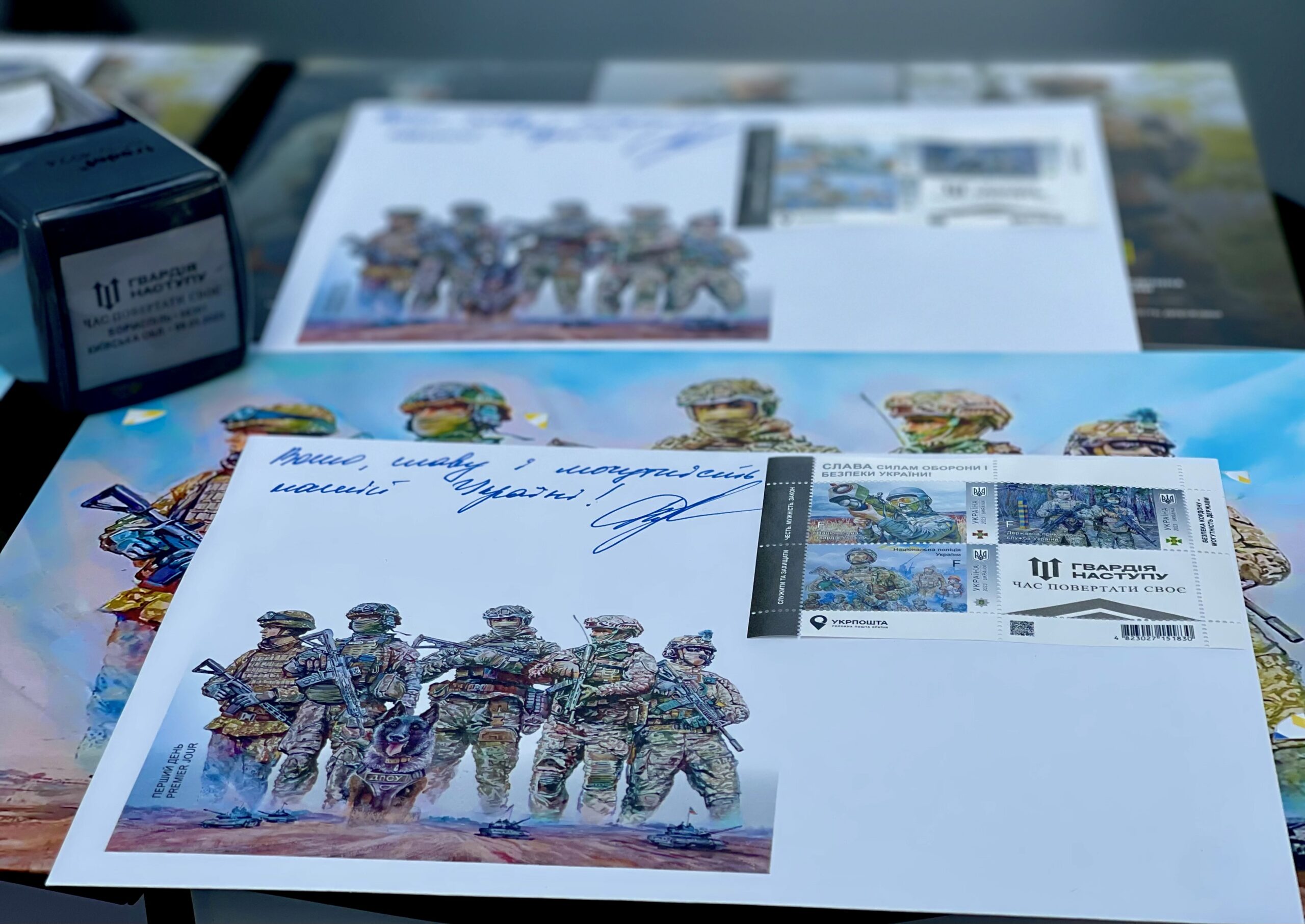 Boryspil International Airport and the heroes depicted on of postage stamps, always fight side by side – the border service, which has its own border crossing point on the territory of the airport, the National Police and the National Guard, which ensure the security of the air gate of Ukraine. That is why it was very important for the airport to express its gratitude and respect to the people thanks to whom the it can operate and confidently expect the resumption of flights in the peaceful skies of Ukraine as soon as possible.