Baggage
Baggage check-in
Any baggage (including hand luggage) must be presented to check-in staff or airline personnel upon request. Baggage accepted by your airline for carriage will be marked with a baggage tag. The check-in agent will then provide you with a second baggage tag which is to be retained by you for identification of your baggage at your destination airport/in case of loss of baggage.
Passengers are recommended to lock their bags and secure them before the check-in. Valuables such as documents, medicines or jewelry should be packed in your hand luggage and declared as required.
Baggage allowances are established by each carrier individually. If you have any excess baggage, contact your carrier to confirm regulations and fees.
Passengers are required to pay extra fees for any excess baggage carried.
A carrier may refuse to carry any baggage containing prohibited items.
Hand luggage
Hand luggage must comply with the stated requirements of your carrier and flight security.
In addition to your hand luggage allowances you can carry on board free of charge the following items:
A handbag;
Reading material;
An umbrella or walking stick;
An overcoat;
A camera;
A video camera;
Duty Free purchases;
A personal laptop;
Baby food.
Luggage wrap
To protect your baggage from any damage during flight, we recommend you use the luggage wrapping services located at terminal D.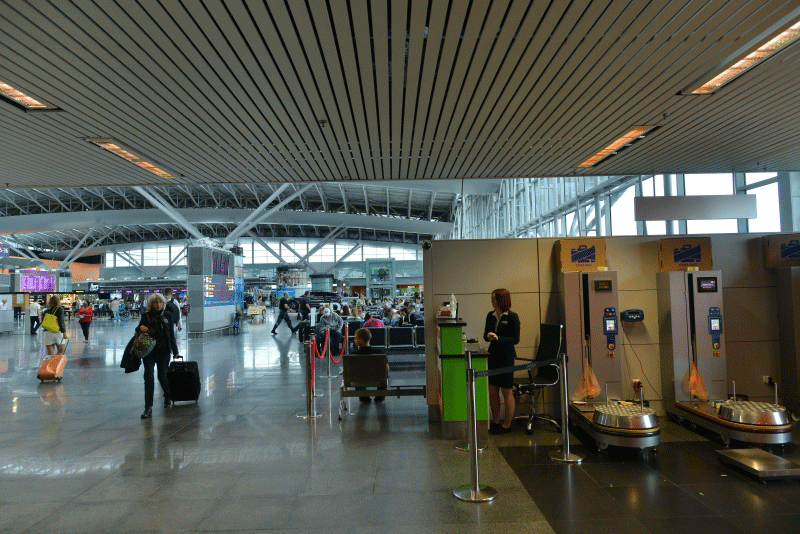 Baggage trolleys
Free baggage trolleys are located at all areas of terminal D.
Outsized baggage
For any information on outsized baggage regulations contact your carrier.
Luggage reclaim
If you can't find your baggage on a delivery conveyor, please contact the Lost and Found office located in the Arrivals Hall of terminal D.
To file a report regarding loss of baggage you should:
1. Complete the form;
2. Present your ID, ticket, and retained baggage tag.
The Boryspil airport baggage searching companies:
Boryspil Lost&Found Group;
INTERAVIA;
Aerohandling;
Ukrainian Mediterranean Airlines.
Lost or damaged baggage
In case you have not received your baggage or found it damaged, please, do the following:
Proceed to the Lost & Found counter. Baggage search controller will help you to complete a form;
Present transportation documents (ID, ticket, boarding pass, and baggage tag).
MORE DETAILS